Beitzah 11,b.
1- Mishna concerning the removal/return of the doors of the shopkeepers box-stalls on Yom Tov.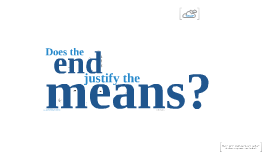 2- Ula's general statement that 3 prohibitions were permitted because have they not been allowed, it would have caused the lack of an observance to begin with.
A reverse of 'the end justifies the means'.
For example – after an animal was shechted on Yom Tov we allow the handling of its hide (and placing it at the door to be trampled on which is part of the tanning process) despite it being muktze.
For had we prohibited the handling of the hide one would not shecht to begin with, least he loses value of the untouched hide. Not shechting on Yom Tov diminishes simchas Yom Tov.
The means (shechita) thus justifies the end (tanning).
3- We mentioned that Reb Akiva Eiger notes an additional situation where such a reasoning is applied.
As we learned in Rosh Hashana people that see the appearance of the new moon are permitted to be mechalel Shabbos to make their way to the Beis Din.
Once they testify they cannot be mechalel Shabbos to return home. Only on the prohibition of the laws of techum (2000 amos) can one be lenient.
Why this leniency? Because were we not to allow them to return home they would not have come to the Beis Din to begin with.
Again, the means (kiddush hachodesh) thus justifies the end (techum).
4- From here we went to discuss the issue of Hatzolah; if they are permitted to drive back once they drop of the patient at a hospital. The rational to allow the return by ambulance is that if prohibited the members would be reluctant to drive to the hospital on Shabbos.
5- The Amora 'Rachva' adds a fourth case where the means justifies the end.  The case concerns a wine vat opened on Yom Tov when the laws of the schism between the 'chover' and the 'am ha'aretz' were relaxed in Yerushalayim.
We discussed the concept of a 'chover' and tried to understand how these people lived. Did their shying away from the 'am ha'aretz' cause strife and animosity?Their membership, the initiation rites, the ability for someone that lost his membership (due to non-compliance) to rejoin, the status of a woman 'chover' etc.