Beitzah 14b.
1- We continued talking about the melacha of 'borer' on Yom Tov.
2- We reviewed the ruling of the Alter Rebbe is his Siddur which is the basis of the custom in Chabad not to eat sunflower seeds on Shabbos.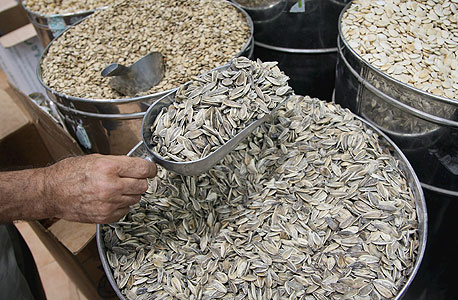 Story of the President of Israel, Mr. Zalman Shazar who called out from his car on Shabbos to a few Lubavitcher-looking people that were chewing sunflower seeds
"hey Chabadniks! don't you know the Alter Rebbe is machmir and we don't eat sunflowers seeds on Shabbos….."
3- The next Mishna moved into the sending of items through a Reshus Horabim to friends on Yom Tov.
One of the items the Mishna enumerates is sending a garment or cloth that has Kilayim which is prohibited to wear.
The Gemara takes issue with this item since the receiver can't do anything with it so why is it permitted to send on Yom Tov?
The Gemara concludes that this Kilayim is referring to a curtain that is used as furniture and not as clothing, and thus has some practical use.
The Gemara then continues to say that one may not weave a curtain from kilayim since one may wrap himself in it! Just as we see the Halachah that a curtain is considered a keili (not part of the building structure) and can become tamei  because one may wrap himself with it.
4- Tosfos  mentions the Gemarah that the Paroches when it became tamei needed 300 Kohanin to immerse it in the Mikvah! It then states that this 300 number is an exaggeration!
We mentioned the explanation of the Gro that the number is actually accurate. The Poroches was (in Amos) 20 x 40 for a total perimeter of 120 Amos. Each Amo is 5 tefochim for a total of 600 tefochim. So, 300 Kohanim, each using his two hands (which is a tefach each) equals 600 tefochim!
5- We analyzed the Tosfos about the issue of the Paroches. The question is if the curtain in the Mishkan/Mikdosh is considered a 'keili' and it can become tamei or it is considered part of the structure and cannot.
6- We mentioned one of the great pre WWII European Geonim Reb Yaakov Zeev Yoskowitz who was a Ruzin/Chortkover Chosid. His magnum opus was a commentary on the Sifri– Amovuhi DeSifri.
We discussed some of the questions he writes at length about our Tosfos,  (page 197) and the letter he received from the Ragatchover on his topic. (page 2).
7-  Here is the name of the French city mentioned in the Tosfos –
Évreux
One of the baalei tosfos in that city, R Shmuel of Evreux.